Found Object; Alien Growth
Cleaning out some things out back, not in my '61 Shasta (trailer) which would not have surprised me, I ran across this alien looking growth.  Wanting to combine some new and old technology in the studio, I shot these with a digital SLR camera on a 4×5 view camera, with all the swings and tilts available.
Now not being a gardener of significance, but having raised my share of vegetables and tomatoes every year and cared for basic shrubbery and lawns comparatively my find was definitely alien.
I decided to explore it with a camera and am sharing those discoveries along with a bit of prose.
First is a close-up of the covering;
This looks more like crumpled seamless background paper, but does have umber tones of earthy dirt, but not the really good black stuff.
Second shot is of the growth itself emanating from the leathery surface;
This is close-up, but still looks so odd, nothing like what I am familiar with.  Using your imagination, you can see little critters and faces hiding in and among the growth.  Like camilians with their ability to adapt to the surroundings via color and pattern changes.
Third shot is wide and much more revealing of the whole, but still very alien.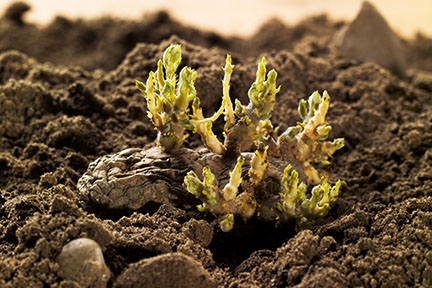 Moon or Mars scape.  Did it drop out of the sky when a meteor or comet flew by and not completely burn up while entering the atmosphere…….
Nope, it is just an old shriveling potato in the dirt, or is that potatoe…
Martin
MartinTrailer.com
Possibly Related Posts:
Posted: October 9th, 2009 under Exploratory Shooting, Muse - Martin Trailer, Test Shots.
Tags: Alien, dirt, exploration, found, fun, growth, leathery, Mars, Martin Trailer, moon, muse, object, photography, story
Comments
Write a comment
You need to login to post comments!