Monterrey Trailer Park, Slice of Life
This is another in my image series called "Slice of Life".  These are the results of polishing "seeing" skills for real work by experimenting on personal projects. The value of personal experimental shooting insures something special for customer assignments and seen in the results.
With my last name, my personal project for the past few years is vintage "trailers" naturally.  While not the only genre, it has lead to many new branch off photographic opportunities.
Featured here is Ed Lum, resident of the Monterrey Trailer Park, Highland Park area, right next to Pasadena, California, in front of a vintage Gold Tone Airfloat trailer at the park.  The Gold Tone is a rare option on the Airfloat trailer then and now if you can find one.
When working on personal projects, risks and growth are part of the projects that drive and translates to better work for you the client.
Livin' the Life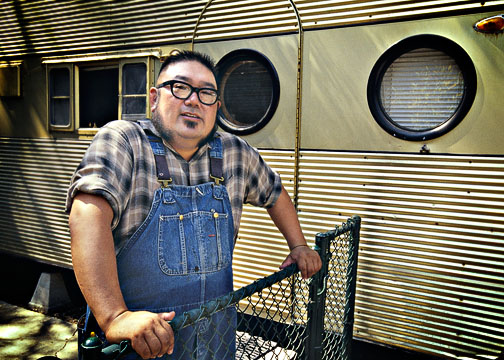 Ed, livin' the life at the Monterrey Trailer Park, Highland Park. It is a
designated historical site and an original "Auto Camp' from the 1920's.
Also, but unconfirmed the park was a Pony Express stop way back.
Expressions of everyday life, drawing in the viewer with real people by a slice in time.
When you need to create and capture the best of a "slice of life", give me a call.
Have a great day and better week.
See the entire web site at, MartinTrailer.com and do leave your comments, really!
Martin Trailer
858/549-8881
Possibly Related Posts:
Posted: August 18th, 2009 under Exploratory Shooting, Lifestyle, slice of life.
Tags: Airfloat, auto camp, historic, Lifestyle, Martin Trailer, Monterrey Trailer Park, photography, slice of life, trailer, trailer park, vintage
Write a comment
You need to login to post comments!