Authentic Portraits – Martin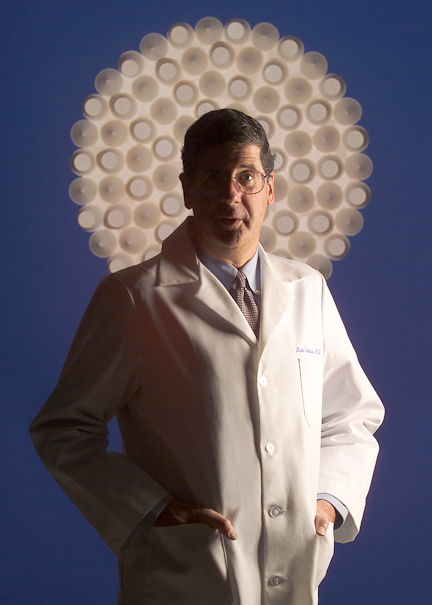 Dr. Martin Friedlander reseacher at Scripps Reseach Institute. Adult stem cells for eye disease. © Martin Trailer
This Authentic Portrait of a research scientist, Dr. Martin Friedlander whose research into retinitis pigmenosa which causes blindness, effecting the rods and cones in the back of our eyes.  His research involves the use of stem cells, the patients own, that slows and improves the condition over time.
His portrait is based on a culmination of interviewing and lengthly discussion on how to illustrate the research of the eye disease and the therapeutic research.  Our conclusion is fairly straight forward, the rods and cones in the back of the eye, in a clean representation using the sculptural piece of treatment target as a background.  The sculpture was created by combining very simple items, snow cone cups (rods) and styrofoam cups, (cones) on foam core with a glue gun in a matter of a few hours.  Simple and effective.
"If someone told me 15 years ago that you could take human bone marrow stem cells and use them to treat blindness, I wouldn't have believed it."
–Martin Friedlander, M.D., Ph.D.
Believable, comfortable and authentic.
To read the entire story, Click Here.
Possibly Related Posts:
Posted: June 4th, 2012 under Authentic Portrait, Business, Portrait, Shooting.
Tags: authentic portrait, authentic portraits, conceptual, conceptual portrait, Dr. Martin Friedlander, Martin Trailer, Martin Trailer Productions, research, retinitis pigmenosa, San Diego, science, scientist, Scripps Research Institute, studio portrait
Write a comment
You need to login to post comments!